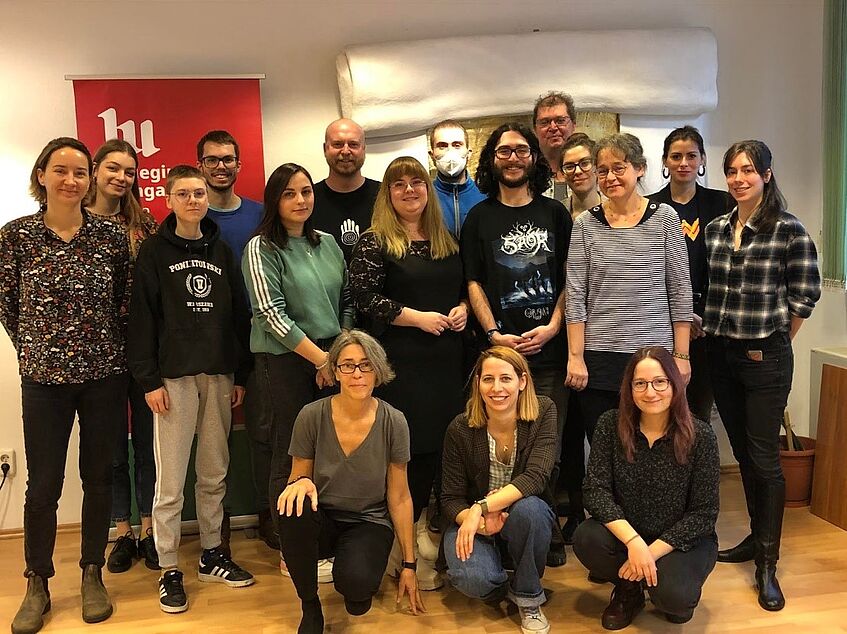 How CENTRAL helped us to develop real collaboration
For "small" university disciplines, cooperation is a basic element of life. Tamás Görbe from Humboldt University shows how five Central European departments for Hungarian Studies found their way from early struggling with network building to future-orientated joint research and teaching activities.
Feb. 8., 2023
The Department for Hungarian Literature and Culture at the Humboldt University of Berlin provides the only full degree programme in Hungarian studies in Germany. While focussing primarily on literary and cultural aspects of Hungarology alongside strong language training, the scientifical linguistic pillar of the programme had lost its former importance since the implementation of Bologna structures. Thus, when CENTRAL was initially launched, we immediately set our sights on a complex cooperation with all four partners in Budapest, Vienna, Prague and Warsaw with a strong linguistic and cultural focus.
Programme diversity and teething problems
Some difficulties with administrative issues and building a functional network notwithstanding, between 2015 and 2018 we realized a wide range of activities according to the quite comprehensive name of the network (Hungarian Linguistics, Language Didactics and Regional Studies in a Central European Context). These included teaching staff exchange in order to mutually benefit from each other's competencies in Functional Linguistics, a couple of research stays (which also added new insights to the history of our university), an international conference honouring our department's 100th anniversary, several language teacher workshops about the teaching didactics of Hungarian, as well as five student excursions in each other's towns to detect traces of Central European cultural relations.
A streamlined cooperation
As CENTRAL funding conditions changed, we decided to narrow our by then rather divergent activities down and implement a format of cooperation which enhances student participation. The 2019 student conference on "Cultural Networks in Central Europe" in Berlin was a motivating event enabling students of Hungarian to present their scientific papers in Hungarian (which is anything but easy). Simultaneously, a research cooperation between teaching staff on a comparative linguistic issue was launched.
Joint efforts in an integrative working environment
After the success of the student conference, we wanted to shift our focus from merely presenting scientific results to an audience towards a more profound cooperation in which a "product" can be elaborated collectively. Thus, in 2021 the idea of a series of collaborative workshops was born. Our new topic Functional Translatology in Regional Contexts proved to be able to integrate both BA- and MA students, young researchers and teaching staff. At the same time, our goal (to create multilingual study material for translating various sorts of Hungarian texts into German, Czech, Polish and English) turned out to be very motivating and enabled a multi-disciplinary work with translations, literature and linguistics.
The way to sustainability
After two workshops in Berlin and Vienna, we also learned a lot about how to operate a network effectively by work-sharing. Now we want to go even further: our multilingual approach to translatological issues turned fills severe curricula gaps in our departments' programmes, thus in the next funding period we are seeking to integrate the workshops into regular university courses and design a joint online translatology course. This way, we want to use the possibilities that CENTRAL provides in order to further anchor Hungarian Studies in the European university landscape.
Find out more...
... about the author here
... about the workshop here